Whether you are working from home, learning from home, or just trying to better manage your time at home, the Time Timer® MOD – Home Edition can bring comfort, confidence, and relaxation to your productivity.
Now available in six trending colours: Fern Green, Peony Pink, Dreamsicle Orange, Lake Day Blue, Cotton Ball White, and Pale Shale.
Once you choose your preferred colour, make it your own!
Mix and match with one of the three available Case Value Packs to create your own style and express your personality.
Case Value Packs include two soft silicone cases.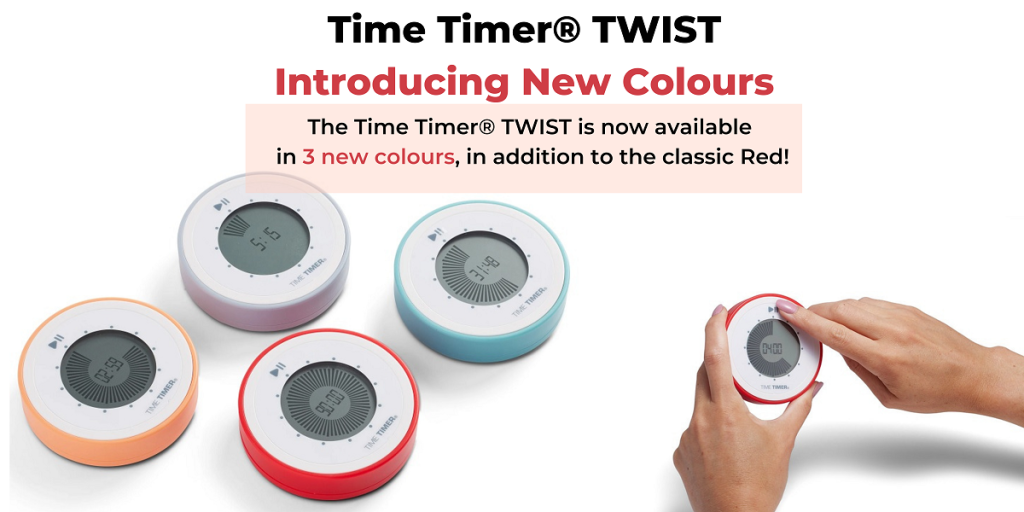 60-Minute Visual Timer – Sized perfectly for desktops, dressers, or kitchen counters. Perfect for individual use wherever you may need it.
Mix & Match – Express your style further while adding a layer of protection to your Time Timer MOD® – Home Edition with soft silicone cases, sold separately.
The power of color – These colors are not only about expressing style – color can have a big impact on our mood! Use these colors to create a more calming or energizing environment, depending on your needs. This can be especially beneficial for those with attention differences or anxiety.
The Time Timer® original line is NEW and IMPROVED
Although always evolving, the Time Timer® Original has been around for over 25 years. Over these years, Time Timer® has learned a lot about the features and benefits that help the teachers and professionals that use the Original Lineup. When it came time to create a new production tool, we were given the chance to enhance our beloved Original line. With this relaunch, we have created greater value for the end user and our distributors by providing a better user experience.
Biofilter WhisperPhone® for Duet and Select
This inline bacterial viral filter is designed to minimize the spread of
germs with a minimum loss of air flow; allowing students to still hear
each other.
Let us introduce our new Protection Pictogram Kit COVID
The COVID-19 Edition Protection Kit is the perfect visual tool to facilitate a better understanding of the rules of hygiene and social distancing due to the COVID-19 pandem
Coming Soon: The Timer Timer® WASH Handwashing Timer!
Being clean has never been so important. Time Timer®, the visual timer teachers and students have grown to trust over the past 25 years,
can now help keep our kids safe with our newest product, the Time Timer® WASH.
Clean Hands for the Greater Good: Global Handwashing Day, October 15th
Global Handwashing Day is a global advocacy day dedicated to increasing awareness and
understanding about the importance of handwashing with soap to prevent diseases,
especially given the current COVID-19 pandemic.
The Time Timer® Wash Handwashing Timer Is Packed With Kid-Friendly Features
The Time Timer® WASH features a touchless IR operation to ensure hands get clean
and stay clean with a simple wave of the hand to begin the timer.
Don't worry about a little splashing – the Time Timer® WASH is water-resistant.
TheTime Timer® WASH displays a 30-second disappearing LCD disk,
showing how much time remains for completely clean hands,
reinforcing World Health Organization (WHO)
Nu verkrijgbaar: LittleStorm Wooden Edition
The LittleStorm game provide children with an opportunity to verbalize the boards and cards,
all of which either deal with situations the child is familiar with or depict situations that
prepare children for things, events or circumstances they may find difficult to comprehend.
In a word: LittleStorm games make abstract things in the child's life specific and easier to
understand.
The games build on the children's own experiences. Emotions, sensory impressions, actions
and physical reactions reflect how we think, see and understand ourselves and the world we
live in.
It is important for a child's well-being that he/she is encouraged to talk about their experiences
and surroundings.